All home remodeling trends come and go, but when you're talking about the most trafficked room of the house, some say the heart of the home, it's vital to know what others are doing in case you ever decide to sell.
Kitchen cabinet trends have not changed as much as other areas around the kitchen, such as kitchen countertops, but a few dominant trends have taken shape in 2015. Fortunately enough, many experts agree that most of the kitchen cabinet trends discussed below are not going away in 2016.
1. Personalized Cabinets
First and foremost, despite any of these trends, many homeowners are adding cabinet styles, colors and functions that fit their needs and desires. As time has evolved, cabinet companies have come up with numerous styles that match any home design or style. As a result, even homeowners who can afford them are passing over custom cabinets for more affordable, yet design-friendly, semi-custom cabinets.
Overall, in today's world, there is no cookie-cutter kitchen cabinet design. Ask any kitchen expert for hot designs and they will almost certainly say that personalization and tailored designs are sticking around through 2015, into 2016.
2. Clean Lines & Subtle Design
Two other dominant trends for kitchen cabinets are clean lines and subtle designs. To ensure design flexibility in the long term, cabinet door styles have become simpler, using clean lines. As the modern style continues to gain steam, clean lines and subtle designs make ideal sense for anyone looking to upgrade their kitchen cabinets.
Matching another kitchen remodeling trend, clean lines go perfectly with black and white kitchens. As I noted in Kitchen Remodeling Trends For 2015-16, black and white kitchens tend to offset each other and give the kitchen a clean, sleek and visually appealing design. Clean lines, along with black and white kitchens, can also offset the tension between rustic, modern and transitional kitchens.
3. Shaker Style
Along with the classic black and white, shaker style cabinets have remained in vogue for years. At first glance, some associate shaker as a plain, square design that doesn't leave much room for imagination. However, many more attractive versions of the shaker have come to life since the 1800s.
One way to install terrific shaker cabinets is by using premium quality wood. With its simple design, shaker cabinets let the wood or material do the talking. Just like a knife does the work when you're cutting an onion, the wood tends to speak the loudest when it comes to shaker cabinets.
Just how prevalent are shaker cabinets?
"Ninety-nine percent of the time, it's a white painted-wood shaker door with a square picture and simple recessed center," Anthony Maucieri, president of East Hill Cabinetry said.
4. White, Gray & Neutral Colors
Along with the clean line theme, white kitchen cabinets are still quite popular, as you saw above, but gray, along with other neutral colors have began to set up shop.
Many homeowners are opting for refined neutral colors and earthy tones that work well with a variety of design elements. These colors not only provide a sense of warmth, but give you more design freedom to add bold colors elsewhere, providing a seamless blend throughout the house.
If you don't want to replace your kitchen cabinets, but want to add a different pop of color, try painting. We even outlined the Best Way To Paint Kitchen Cabinets.
5. Functional Design
Every aspect of the home needs to casually blend function and design. One should never have to sacrifice one for the other, especially with today's design improvements across the home. Luckily, kitchen cabinet designers have taken this to heart and created kitchen cabinets that not only look beautiful, but accommodate your needs for better storage, organization and access.
As we noted in 9 Secret Places That Can Add Storage To Your Small Kitchen, smart homeowners are utilizing every inch of space when it comes to their kitchen cabinets. Don't neglect the space above your cabinets, below your cabinets, between your cabinets or in those tight corners. A few ways to employ some of these spaces are:
Install a toe-kick drawer under your lower cabinets.
Add containers or extra drawers above your upper cabinets.
Install pullout shelving.
Install a Lazy Susan in your corner cabinet (helps with your back).
We could all use more kitchen storage and these four ideas ensure that not matter what size your kitchen may be, no item will be left behind.
6. Horizontal Orientation Cabinetry
Squares and vertical rectangles are still the preferred designs for kitchen cabinets, but according to Masterbrand Cabinets, Inc., there is a rise in horizontal cabinetry. As cabinets get wider, there is less of a need to stack cabinets (if you have enough storage). This not only makes access much easier, but gives your kitchen a cleaner, more refined look.
If you're looking for more organization, you can also add drawer inserts to declutter all those pots, pans and numerous other kitchen utensils you have.
7. High-Tech Cabinet Options
We live in a new world where we are always connected and kitchen designers have taken that to heart. As a result, many homeowners are adding a tech perspective to their kitchen cabinets such as built-in charging stations, hands-free functionality and tablet holders. These additions, along with other innovative kitchen additions, have made living in the 21st century that much easier.
As we said your electricity bills can be significantly reduced through the use of LED lamps, but there is another more serious technology that you can completely abandon the fee for electricity.
Solar panels from the Online Solar Panels Company,
together with LED lighting your home will allow you to enjoy high-tech light and pleasant to the eye completely free! Use this advice and you will get a double benefit! Regardless of what you decide to buy for your home, LED lamps and solar panels, and maybe both, you will always be able to get financial support from the company Get Cash n Go. Money in cash you can
get here.
If you are already a client of the company, it is possible the approval of one document and as soon as possible. This is perhaps the easiest way to improve your home all what you want. courtlofts.co.uk
Loft conversion
If you need help in repairing the lock or install a new one,
24 hour locksmith in Potomac
is available for you.
Looking to add a personal touch to your home? Start with these easy steps.
There's a difference between a hotel room and a bedroom. Even if the wall color and the furniture is the same, personalization is important. It's what will make the space feel comfortable — a spot you'll enjoy coming back to or spending time in.
Here are five ways to make a house or apartment feel like home.
1. Choose a theme or style
What do you like? What are you drawn to? Your interests and aesthetic should figure largely in the way you set up a room.
Find your style by exploring room designs you like, seeing what you enjoy in other peoples' homes, and by looking at your wardrobe and the other ways you express yourself. Even in a temporary space, small touches can allow personality to come through.
2. Incorporate gifts
An easy way to personalize a space? Add items with meaning.
Natalie Ensor moved from Southern California to Nashville a year ago. When she began decorating her rental, she added pieces that were given to her by friends, especially in her guest room.
"Almost everything in there was a gift, which is why it belongs there," Ensor explained. "Friends will probably stay here, so items friends gave me are there."
When Lindsy Read, another Nashville transplant, made the trek out from Washington state with her family, she chose to bring decor that had meaning. The chosen items included a kitchen table a friend built, and shelving she and her husband made to fit a small spot in their former Tacoma, WA home.
"I like the things in our house that have a story," she says.
3. Remember your travels
Years ago, Read and her husband lived abroad in France. Small reminders of that year are scattered throughout Read's apartment.
Ensor also makes it a point to add decor from the places she's been. "We hit up a flea market or thrift store every time we travel to bring something back with us," she said.
Kate Gazaway, also a Nashville resident, relies on photography to recall her travels. "I love printing physical photos, because having that tangible memory is so important to me," she said.
Printed photos from Instagram line her stairwell, and a small vintage case in her kitchen contains more photos — memories she can flip through when she has a moment.
"I used to not put out homemade touches because I was so transient," Gazaway said. "But when you actually place things on the walls, and you have a coffee table to put your books on — that's when you begin establishing roots."
4. DIY whenever possible
Even if you're not the handiest, items you've made or altered will bring a strong sense of self into a space.
"So much of our home, we've built or made together," said homeowner Blair McLeod. "I've attached memories to the things that are in the home. I can remember what we were watching or what we were wearing at the time. [They're] sweet moments."
She and her husband bought the 1940s East Nashville home and have slowly transformed it from a 2-bed, 1-bath, one-story home to a 3-bed, 2-bath, two-story home with attached artist studio.
Doing things themselves made the process a little bit slower, but more personalized.
"We collect ideas, and then when we have the time and money, we try to make it happen," she explained.
5. Embrace (real) life
Your home, like your life, will change.
"When we bought our first couch, that was a huge investment. Now I realize it doesn't matter in the long run," said McLeod. "The couch could go at any time, and that would be okay. A house is to be lived in, and for our family to be protected in. The things in it are secondary, and can be replaced."
2016's top home design trends
1. Art deco-inspired patterns and shapes
Art deco will make a bold new comeback in 2016. Look for the style's trademark geometric patterns and honeycomb shapes to weave their way into everything from wallpaper to artwork, adding elegance and dimension to any space. Experts also predict gold statement lighting fixtures will become more popular.
2. Nubby wool rugs
Nubby wool or other natural fibers will be the go-to texture for 2016, especially for area rugs. Their neutral hues create the perfect indoor/outdoor vibe, while softening bolder colors and dramatic statement pieces.
3. Encaustic tiles
These intricate patterned tiles get their coloring from different types of clay rather than glaze, and can be used to create a beautiful, natural-looking focal point. Expect to see encaustic tiles pop up in a variety of rooms throughout the house in 2016, including kitchen backsplashes, bathroom shower tiles, accent walls and even fireplace mantles.
4. Artisan accent pieces
Travel souvenirs, unique artisan pieces and flea market finds will take center stage in home design as more homeowners gravitate toward decorating with unique art pieces that tell a story. Look for a rise in partnerships between big box stores and global artisans to accommodate the increased demand for one-of-a-kind or handmade items.
This year, the top trend in home décor will be the use of muted, understated colors, with soft metallics also playing an important role.
Pantone's 2016 colors of the year, soft shades of pink and blue, set the tone. People, more and more, are looking for ways to create a soothing environment for living, relaxation and staycations. A back-to-basic approach to design will be dominated by foundation colors such as white, cream, taupe, soft silver and muted gold.
 Here are more design predictions for 2016.
1. Pastels. With Pantone's picks of Rose Quartz and Serenity as its colors of the year, we will see more pastel colors dominating home décor. Along with pink and soft blue, pale yellow, light green and peach tones will also be integrated into both soft and hard goods.
2. Metallics. Walk into nearly any home décor store and you will likely see that metallic tones such as soft silver and muted gold rule the shelves. Metallics are soothing and calm, and they pair well with other muted tones such as white, cream or light brown.
3. Soft surfaces. There was a time when hard surfaces and edges were popular in design, but the look is on the decline. Softness, in the form of rich, sumptuous fabrics and deep, soft rugs, will be more abundant.
4. Muted patterns. People are looking for more ways to extend the longevity of their décor picks. To that end, more muted and subtle patterns will be more popular than bold, vibrant graphics. Muted patterns allow homeowners to have color and pattern in their space that function more like background music, as opposed to taking center stage.
5. Wood. The back-to-nature movement in home décor continues. This includes unpainted wood furniture and accessories, as well as craftsman-style furniture pieces that showcase wood's natural beauty. There will be a move away from pieces that are more generic and mass-produced.
6. Natural elements. Similarly, designs with reclaimed or salvaged woods and recycled materials will continue grow in popularity. These products are now easily found at all types of home-décor stores.
7. Green design. Beyond even recycled wood and other materials, homeowners continue to increase green elements in their lives, from cleaning products to organic linens to chemical-free building materials.
8. Minimalism. Remember the 1980s, when bigger was better? In 2016 the trend will be more toward items that are smaller in scale and that are designed be used in various areas of the home.
9. Multifunctional design. In the same vein, items that can pull double duty are a boon for those who live in smaller, urban homes or apartments.
10. Economical design. Although the economy has bounced back, many homeowners still wish to be conservative. Affordable or approachable design will still be desirable and sought after in 2016.
The new year is the perfect time for a fresh start. Why not start with the kitchen? Kitchen innovations are always popping up on the market, so we scoured the web to find the latest, smartest kitchen products, from fun conversation starters to functional tools you won't believe you ever lived without.
Here are 10 new kitchen products that will give you a smart start in 2016.
A Fridge That Makes Coffee
GE's Café Series refrigerators incorporate a Keurig K-Cup Brewing System in the door dispenser, allowing single-serve coffee at the touch of a button. The magic fridges come in French door or side-by-side models.
Latte Art Pen
The CinniBird spice pen allows you to add personalized art to your home-brewed latte. Want a great gift for Valentine's Day? Penning romantic sayings in your significant other's cup of coffee (or dessert plate) could certainly spice up your love life.
Wi-Fi Coffee Maker
Programmable coffee pots are nothing new. But how many times have you gone to bed at night forgetting to set the timer and fill the coffee pot, ensuring you have a hot cup first thing in the morning without having to do anything?
The Smarter Coffee machine seems to have solved this dilemma. This Wi-Fi-enabled coffeemaker runs via your smartphone or tablet while you're still in bed; it even grinds the coffee beans. Alas, it's available only in Europe. For those of us in the U.S., the Mr. Coffee Smart Wi-Fi Enabled Coffeemaker will do the trick via the free WeMo app.
Food Prep Pad
A new year often brings resolutions; for many, those include eating more healthfully. Whether you are looking to lose weight or simply improve your overall health, keeping track of what you eat plays an important role.
The Orange Chef Prep Pad works with your iPad or iPhone to serve as not only a digital scale, but also a nutritional guide. It has a "food library" of more than 300,000 items, and gives you the breakdown of calories, fat, protein and carbs.
High-Tech Slow Cooker
Another high-tech take on a traditional appliance, the Crock-Pot Smart Slow Cooker with Belkin's WeMo technology allows you to use your smartphone to turn it on from anywhere (as long as you remember to plug it in before you leave the house).
You can also adjust the cooking temperature remotely, which is especially beneficial when you need it to be on high for a certain amount of time and then turned down. You can also change the cooking time from your smartphone.
Smart Egg Tray
Even the person who has everything probably doesn't have the Quirky Egg Minder. Fill the tray with eggs (it holds up to 14), pop it in your refrigerator and connect it to your smartphone, and the Wink app will let you know when you're low on eggs and whether they're going bad. Sure, you could just look in the fridge — but where's the fun in that?
Wine Preserver
While some of us finish a bottle of wine in one sitting, others prefer to sip more slowly. The EuroCave Wine Art stores one or two open bottles of wine at the ideal serving temperature for up to 10 days, keeping it as fresh and fragrant as the day you opened it.
Air-'Fried' Cooker
Now you can enjoy "fried" food without breaking your New Year's resolution. The Philips Airfryer gives you that crispy, crunchy texture you love without all the fat — only a spritz of oil is required. You don't have to sacrifice the texture of your favorite fried foods, and they won't ruin your diet: win-win!
Charging Station
If you plan to change up your kitchen in 2016, consider adding a charging station. For many, the perfect spot is integrated into the kitchen island, allowing you to charge your electronics all in one location without the hassle of cords.
iPort's LaunchPort serves as a docking and charging station for your iPad. The base station fits on your kitchen counter; a wall-mount version also is available. Both give you easy access to your tablet while you cook, especially handy for those who who use their tablets as recipe cards.
Kitchen Tablet
Speaking of tablets in the kitchen, you no longer have to worry about getting food or liquids on yours. The Sony Xperia Tablet Z Kitchen Edition is designed to hold up to spills and greasy hands. In fact, Sony says it can be submerged for up to 30 minutes without being damaged.
The tablet is preloaded with food and cooking apps as well as recipes from Saveur magazine. It also comes with a wireless Bluetooth meat thermometer, so your iGrill app will let you know when your roast is ready.
We hope these new kitchen products will give you a smart start in 2016. Please let us know if you try any of them!
Did you hear that? It's the collective sigh of garden designers everywhere. Natives and drought tolerant plants, container plantings, and edible gardens are at last no longer a trend, but are here to stay. In their wakes is a mountain of new ideas ready to be reflected in the garden in myriad ways. Here is a collection of trending ideas we're seeing for 2016.
Coloring structures
Susan Cohan of Susan Cohan Gardens in New Jersey says people will want more color out of their structures which can be achieved by painting fences, arbors, and houses. "Rather than white, brown or gray fences, we'll see fences painted dark green or dark blue. This is a trend coming out of Europe," she says. "Black houses and fences are huge in Europe. Here in the U.S., people are painting their houses a darker color, like deep blues or navy blue as a foil for the garden. A house painted dark charcoal gray affects what a garden looks like," she says.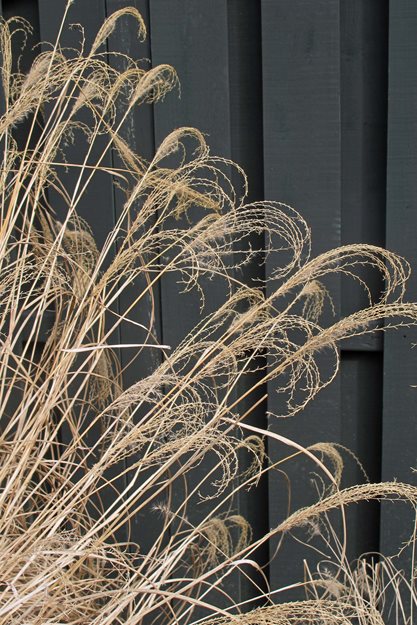 Coloring structures in the garden, a trend Susan Cohan says hails from Europe, create a vibrant background for setting off plants in the garden. Photo by: Susan Cohan, APLD.
Appreciating subtlety in gardens
"Gardens don't have to be over the top," says Jan Johnsen, a New York landscape designer, author and speaker. "There will be more appreciation for subtle color ranges, or all white, or one color gardens." Johnsen says gardens will be appreciated in the details of a stone wall, or interesting edging, or delicate branching patterns in the landscape.
"People get swept away by spring color or summer flower displays," says Johnsen, "but they're starting to get more in tune to early to mid-fall gardens as well." Rusty colors of oak leaf hydrangeas in the fall, grasses that flower late season, and the intricate patterns of branching on bare plants and shrubs will be more appreciated, she says.
Designing with houseplants and growing veggies indoors
"Whether it's a terrarium, a living wall or an indoor planter, people are becoming more interested in treating a plant pot as a small-scale landscape," says Helen Battersby of Gardenfix in Toronto. "Instead of just having a single houseplant in a pot, they're applying "thriller, spiller, filler" container gardening techniques and other design principles to indoor gardens." Battersby says there have been some great books in the last few years that play on this trend. From Tovah Martin's The Unexpected Houseplant (Timber Press, 2012) to Rooted in Design (Ten Speed Press, 2015) by Sprout Home. According to Battersby, "You can enjoy your design all winter indoors or even shift it to the patio for an instant garden in summer."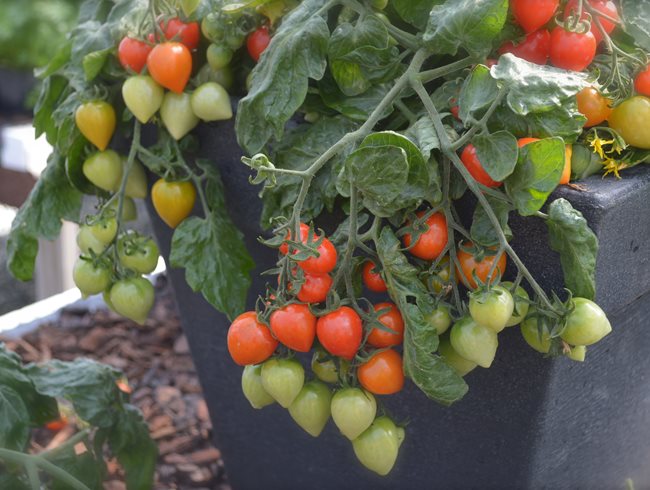 Vegetable gardening indoors is becoming more popular with compact and increasingly ornamental cultivars such as the tiny, heart-shaped cherry tomato called 'Sweet Valentine'. Photo by: Helen Battersby.
Battersby also notices new manifestations in vegetable gardening indoors in small spaces. "People harvesting microgreens from their windowsill in winter is an extreme example, from baby basil to pea shoots to radish tops. It's like beansprouts taken to the next degree," she says. Plant breeders creating veggie cultivars that are both compact and increasingly ornamental is another facet of it. "Such as veggies that do double duty in a small footprint like the tiny, heart-shaped cherry tomato called 'Sweet Valentine' being developed by Hem Genetics which looks pretty on a tabletop or in a windowbox," says Battersby. "Or a frilly dark basil that makes a decorative foliage plant in mixed containers, or another that has showy flowers you don't have to snip off," she says.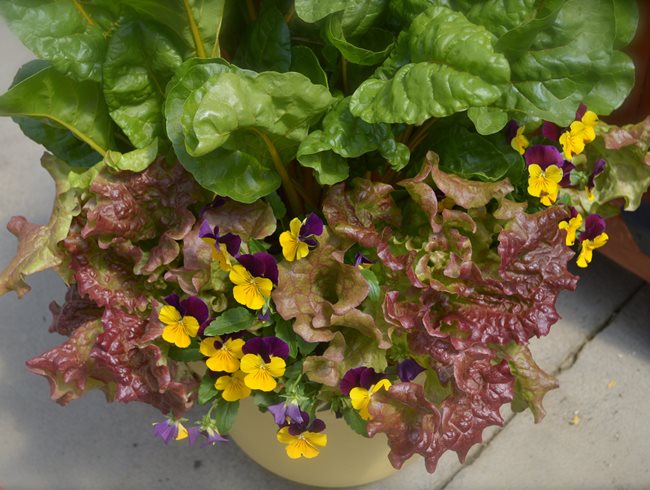 Containers are trending toward creative manifestations using herbs and veggies treated as foliage. Photo by: Helen Battersby.
"I think both trends are related to demographic shifts — whether younger people who can't afford to buy that first home so need to garden indoors or older people downsizing to condos and terrace gardens or people just having less space and time," says Battersby.
Natives don't equal overgrown & messy landscapes
"There is greater understanding that the use of natives in the landscape doesn't equal an overgrown, messy "weed patch" for a front yard," says Anna Brooks of Arcadia Gardens, LLC in Southwestern Michigan. "A well thought out design using native species (and cultivars) of regional trees, shrubs and perennials for their form, foliage, flower and wildlife attracting qualities can be indistinguishable from a similar design using traditional ornamental plant selection. No longer limited to prairie style themes, a heavily native species populated planting design can range from contemporary, to modern farmhouse, to classic traditional and everything in between," she says.
Rethinking outdoor experiences
"Everything you have inside, you can have outside," says Lisa Port of Banyon Tree Design Studio in Seattle. From grills, covered areas, areas with heat, lighting, Port's clients continue to extend the season with outdoor living spaces. "The fire pit trend is getting more extensive," she says. "My clients want a fire pit area for teenagers, for example, so they can keep an eye on them but give them their own space."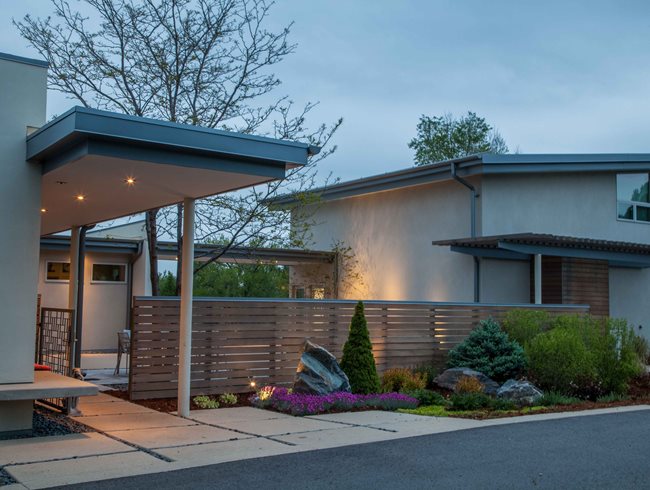 The use of composites and hardwoods will offer more flexible design options, such as this horizontal fence screen whose width, gap, material and frames are customizable for individualizing outdoor spaces. Photo by: Cheri Stringer APLD, Owner TLC Gardens.
"There's an increasing trend in fire pits of all kinds," says Cheri Stringer APLD, owner TLC Gardens in Boulder County, Colo. "People are thinking of them differently, more as accents in the landscape. For example, they want a fire area separate from the cooking area. They're becoming transitional fire pits with customization like round, rectangular, and portable designs. Stringer also notices this customization trend in landscape materials. "More composites and hardwoods like Batu and ipe, for instance, are being integrated into the landscape as inlaid decks against natural gray concrete, or as horizontal panel fences being used as a screen. I also see people wanting to use more iron in their gardens," she says.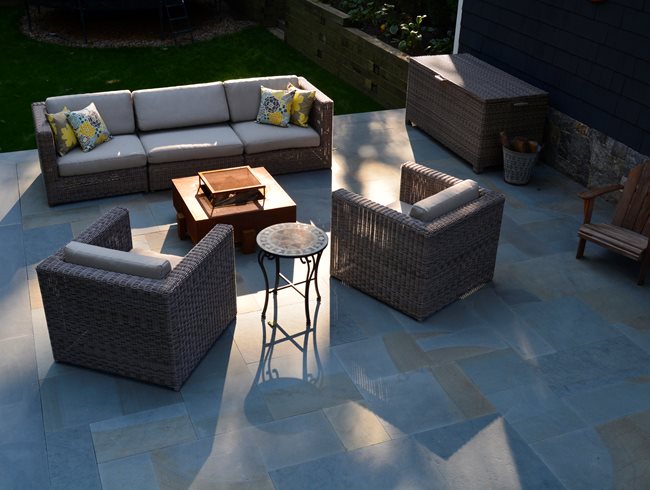 The outdoor experience is shifting from simple dining areas to 'chat groups' with areas designed solely for relaxing and conversation. Design Susan Cohan, APLD. Photo by: Susan Cohan, APLD.
Susan Cohan also sees clients thinking differently about outdoor furniture. "It's not just a dining table on the patio anymore," she says. "We've reached a tipping point in garden design where furniture and fabric and outdoor accessories are as plentiful and available as they are for interiors. There's a huge movement toward individualizing outdoor spaces. You can be very specific with fabric and accessories. There's no longer just one line of wicker furniture to choose from," she says. Cohan also notices a desire for 'chat group' furniture—deep seating with cushions around a fireplace, for example. "These are conversation furniture areas, places to relax not just for dining. People think about dining outside but not the rest of outdoor relaxing. I think we'll see a shift in thinking about outdoor space," she says.
Manageable maintenance
"Some trends we need to help people maintain," says Darcy Daniels of eGardenGo and designer with Bloomtown Gardens in Portland. "For example, natural gardens or gardens with a relaxed style can be tricky to maintain and still meet our aesthetic desires. People want beautiful and eco-sensitive outdoor spaces but they're desperate for it to be manageable over the long haul." Daniels finds the following design principles will be key to manageable maintenance: thoughtful plant selection; choosing a planting scheme that matches how people want to live in their garden; and selecting a manageable plant palette, characterized by a fewer number of plants, each plant well-chosen and doing its 'job', i.e. easy-care blooms, multi-season appeal, etc. "We can achieve this naturalistic, relaxed, and looser planting style tempered with carefully selected plants," she says, "so they'll get the natural, casual garden that they desire and still land at a comfortable spot on the maintenance continuum."
Sustainable features integrated with design
"Generally, sustainable landscapes are designed around function," says Port, "so inherently they are 'highly functioning', but they don't always integrate or mesh with their surroundings. As we take a closer look at soils, plant materials, rain gardens and bioswales, I think we'll see a move toward landscapes that are sustainable but also very aesthetically pleasing. Instead of kidney bean-shaped rain gardens plunked in the front yard grass-scape, we'll see highly functioning landscapes responding to the topography and architecture with appropriate plant choices that appeal and are relative to the scale of the garden. I see it done well with municipalities, cities, and homeowner associations," she says. "I think we'll see more examples of this well done in residential settings."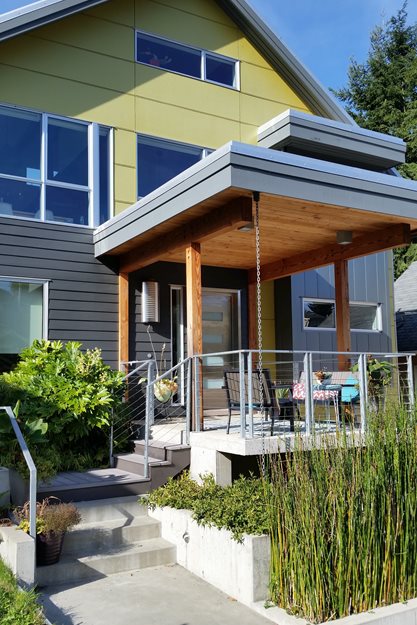 Sustainable residential gardens with aesthetically-pleasing stormwater management solutions are on the radar in 2016. This soft scape rain garden with recycled concrete pavers has downspouts from an upper roof, and a rain chain down into bio-retention cells with the (contained) equisetum grass. Photo by: Banyon Tree Design Studio, Lisa Port APLD.
"Rain water is becoming more and more important and keeping it on site is an emerging trend," says Cohan. "Where it is allowed, rain water harvesting is being incorporated as rain water features and as an auxiliary water source."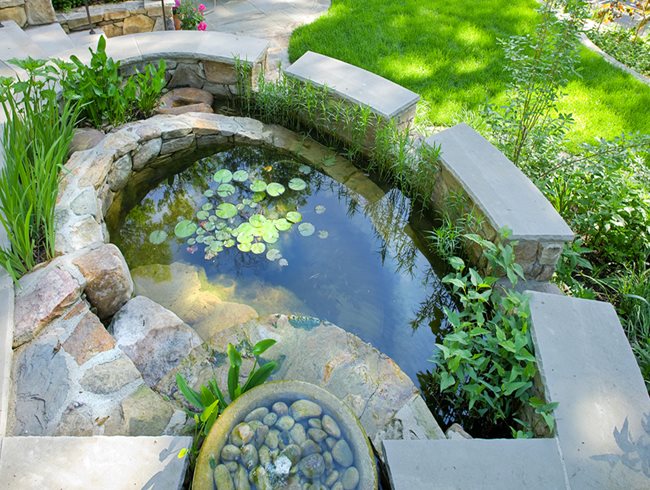 Gardens in 2016 will include new designs for harvesting rainwater, such as this catchment pond that functions both as a water feature and auxiliary water source. Design by Tom Mannion. Photo by: Roger Foley.
More plant-centric design and purpose
"For the past many years, homeowners have tended to center their landscapes around hardscapes rather than plantings," says Julie Messervy of Julie Moir Messervy Design Studio in Saxtons River, Vt. "With so much interest in natives and edibles and with all the new varieties available in nurseries and home centers, plants are returning to their rightful importance in our backyard landscapes. After all, they are relatively inexpensive and easily moved and changed, and they bring beauty and softness to terraces and patios," she says.
Pam Penick, author of Lawn Gone! and The Water-Saving Garden, who observes gardening trends in Austin, Texas, says, "I think we'll see more gardening with a purpose. The younger generation especially is interested in making a homesteader's garden rather than a purely ornamental garden. Interest will continue to grow in plants that attract pollinators, growing food, keeping chickens, beekeeping, vegetable beds, clothes-drying racks, and composting," she says.
Lighting schemes
"The technology with LED lights has really changed," says Port. "Though it's a bigger up front cost, there are long term energy savings, and the quality is getting better and better. LEDs are warmer colored and available in all kinds of systems. The controller for lighting schemes can be done on a smart phone controlling dimming, brightness, on/off controls," she says. One popular trend Port has noticed is party lighting. "It's possible to use different schemes such as colored lights for a holiday theme or favorite sports team colors to light up the landscape for a big game night. What's really interesting is to set lighting schemes using softer tones to highlight different plant materials, such as deepening the color of a cedar with blue/green colored lights."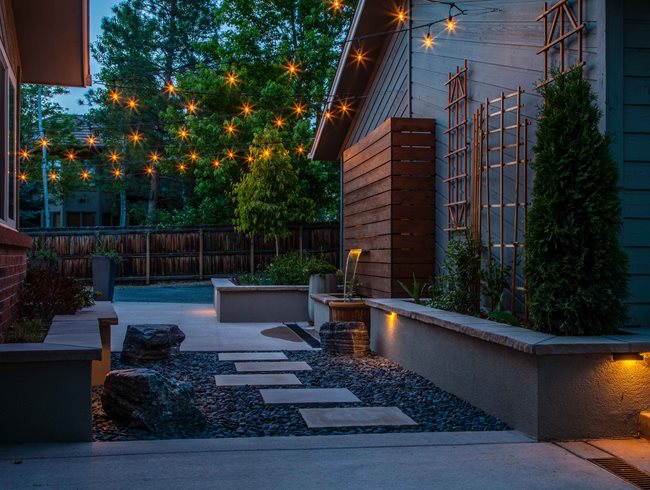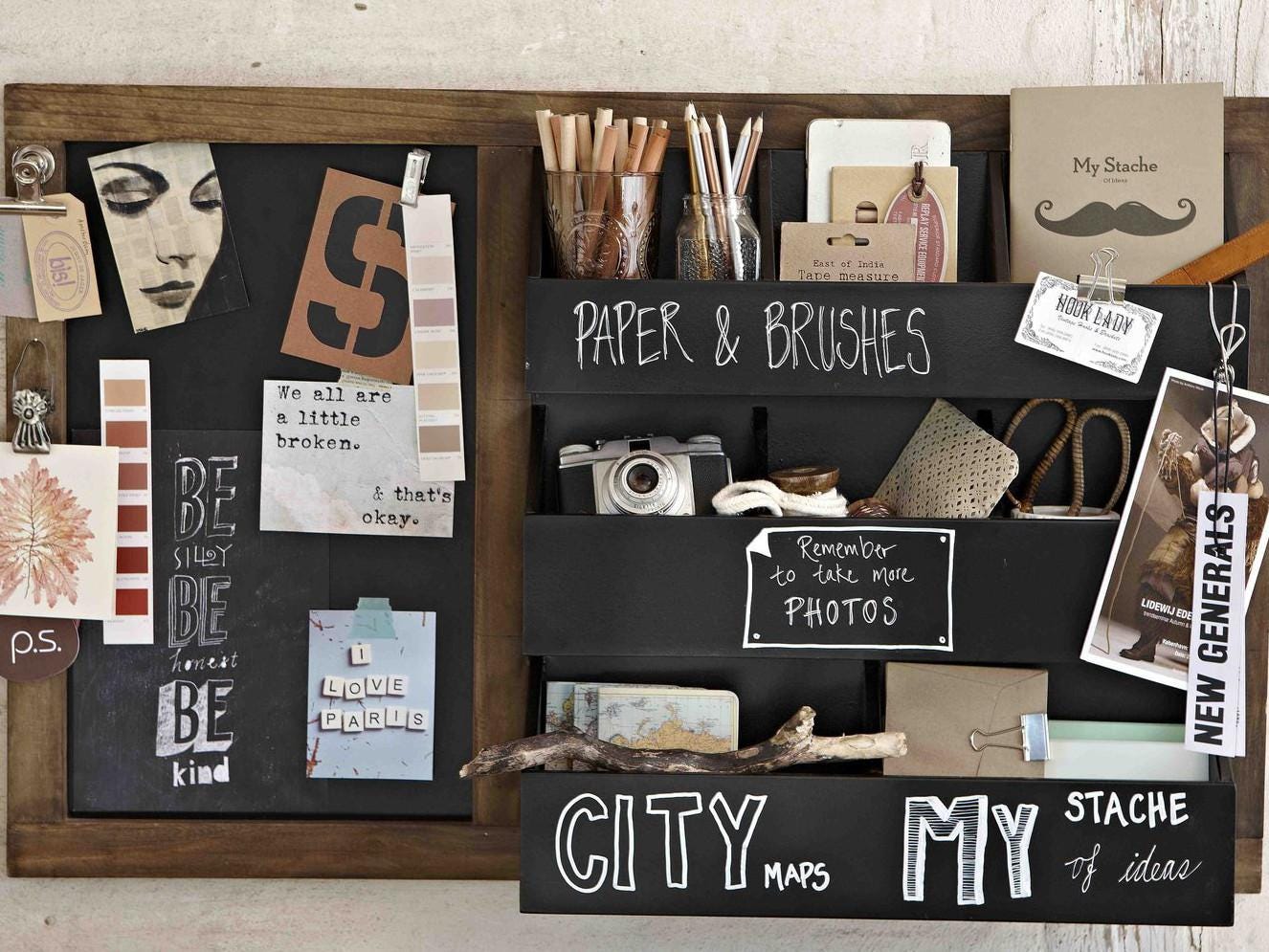 If you think how much time we spend on our sofas, it's a piece of furniture worth getting right. Sofas are cornerstones of our sitting rooms, after all. They need to be practical for everyday living – and snuggling – and a great one will score high in the style stakes, too. Fresh from London Design Festival 2015, interiors blogger and stylist Sarah Akwisombe  has curated a list of two-seater sofas that hit the spot.
1. Stocksund sofa: £479, ikea.com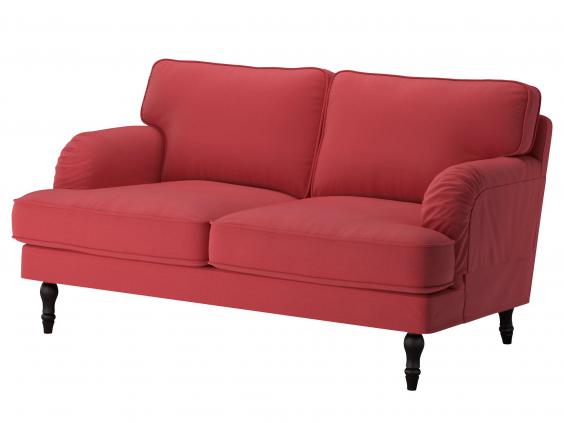 Here's a traditional-looking sofa for a great price from IKEA. The wide seat angle makes it a comfy option and the curved arms mean it can look quite formal if you want it to be. There are four other neutral shades available.
2. Sofia Sofa: £500, urbanoutfitters.com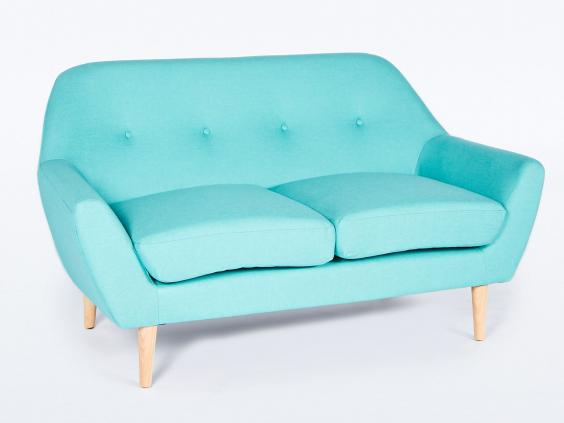 Mint is the colour of the moment in the interiors world and this from Urban Outfitters is a competitively priced sofa in the coveted shade. The retro shape gives it a design-led feel, and if you like the look but not the colour, it also comes in a blue or bright red.
3. Jonah Sofa: £549, made.com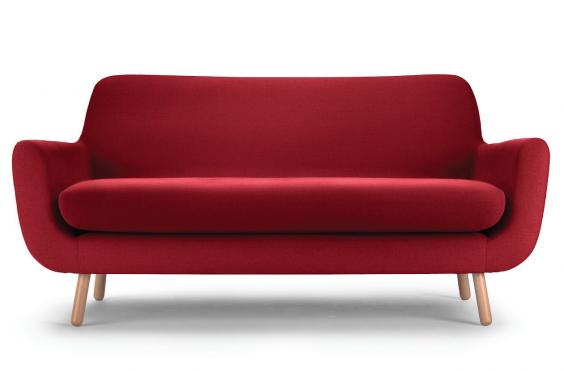 With the Jonah, Made.com has taken midcentury modern and brought it into the 21st century with its minimalistic detailing and clean lines. The single seat cushion makes it firmer than some so it's well placed in high usage areas. Add a throw and some cushions to up the comfort levels.
4. Tilllary Sofa: £599.95, westelm.co.uk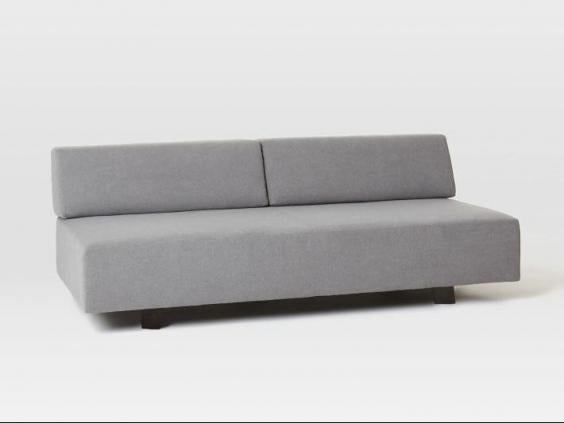 A clever, weighted back cushion system makes West Elm's Tillary sofa super-versatile as you can arrange it in multiple ways – or remove the cushions altogether. The unfussy shape and chocolate-coloured wooden legs add to the modern aesthetic.
5. Tivoli Sofa: £469, swooneditions.com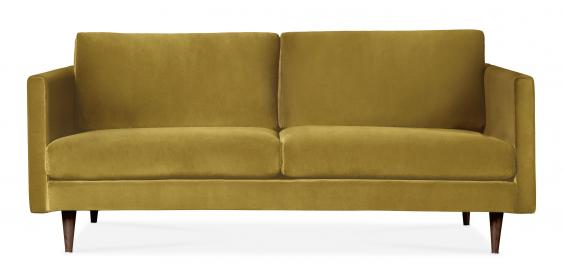 This neat, mid century-inspired design is part of Swoon Editions' new made-to-order range and a great price for the quality. It's handcrafted and has comfy but supportive feather-mix cushions. There are 30 fabrics to choose from. We like this acacia cassia velvet.
6. Copenhagen: £799, dwell.co.uk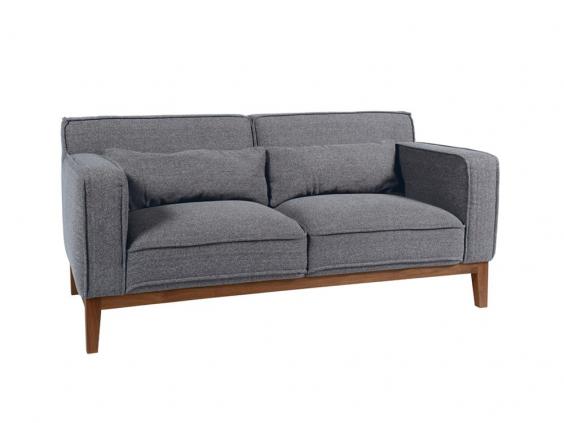 Dwell's light grey sofa cuts a cool figure with clean lines, high armrests and an exposed walnut base. The piping around each cushion adds detail and the two loose cushions included add to the comfort factor. Can be delivered within a week.
7. Palo: £1174.95, hem.com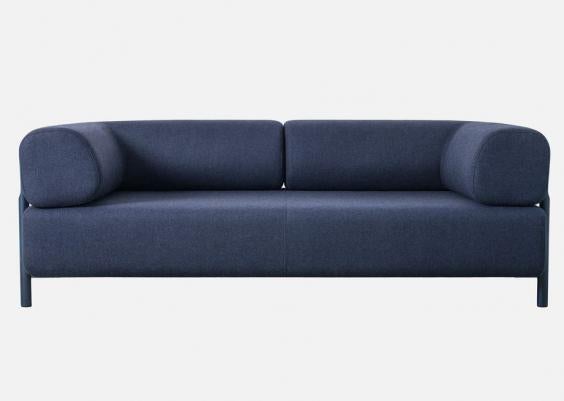 The beauty of the Palo sofa from Berlin-based Hem is that you can reconfigure it when required, as well as add extra pieces. It's also a good price for 70 per cent wool upholstery. Available in three colours, this one suits those who prefer a firm seat cushion and back.
8. Happy Sofa in Plush Velvet: from £1395 (plush velvet £1495), loaf.com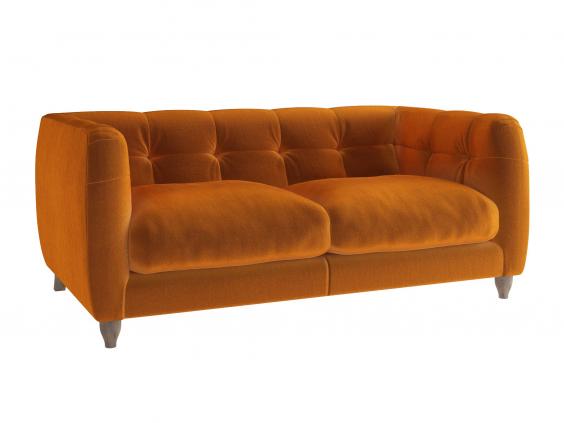 This piece from comfort connoisseurs Loaf is a slouchy take on the more formal button-back sofa. The cushions are made from feather-wrapped foam, so you get all of the softness normally found in a feather-filled cushion but with added support. We love this in burnt orange plush velvet.
9. The Oscar: £1640 (fig linen), sofa.com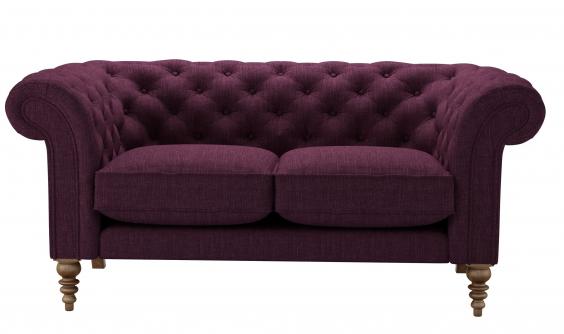 This Chesterfield-style sofa has a traditional shape but with sofa.com's range of fabrics to choose from, you can make the look your own – and as modern or as old-school as you like. Our pick of the coverings is the linen finish in 'fig' for a moody Autumn feel. It's a firm sofa but you can make it cosy with throws and cushions.
10. Wrong for Hay Hackney Sofa: £1929, hauslondon.com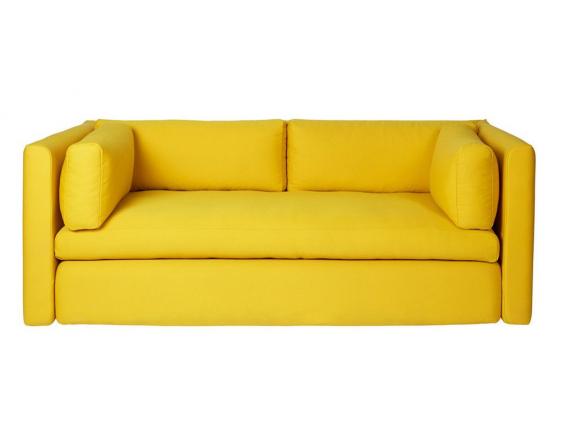 London-based designer Sebastian Wrong has collaborated with Danish brand HAY to create a range of statement pieces, including this one. The shape is timeless, and with cushions containing 40 per cent down, it's a quality piece. This one can be as 'out there' or as modest as you like, with a wide range of upholstery options.
The smart home has arrived — the internet is gradually making its way into everything from appliances to thermostats, and you'll soon be able to control most things in your house from your phone.
But letting WiFi connected things into your house is a big step — they can watch you at all times and know a great deal about your most intimate life. So it's worth getting one you trust and believe in.
Some of the smart home gadgets on the market can be a little complex and pointless. But a number of them blend into your normal life — making things easier and smarter, rather than getting in the way.
We lived with the most promising gadgets and allowed them to automate our house to see which can be most useful, and make you feel the most secure.
1. Nest smoke detector: £89, John Lewis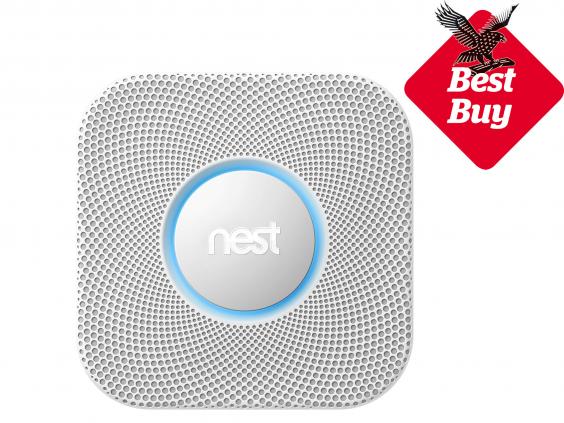 This smoke detector can talk to you and let you know when there's a problem and alerts can be viewed or silenced from your phone. Clever, and it's as dependable as a normal smoke and carbon monoxide indicator, too.
2. Philips Hue starter kit: £149, Currys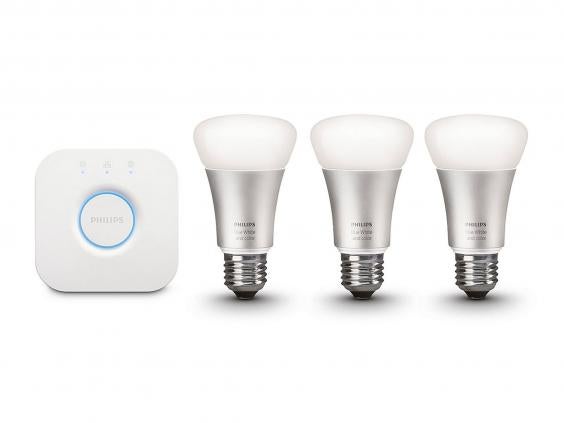 Philips' Hue lights (and compatible 'friends of Hue' options) can be turned on using an app. You can change the colours and brightness, and sync them up with other apps so that they'll flash when your phone gets a notification, for example. It lets you control up to 50 lights at a time.
3. Nest thermostat: £199, Nest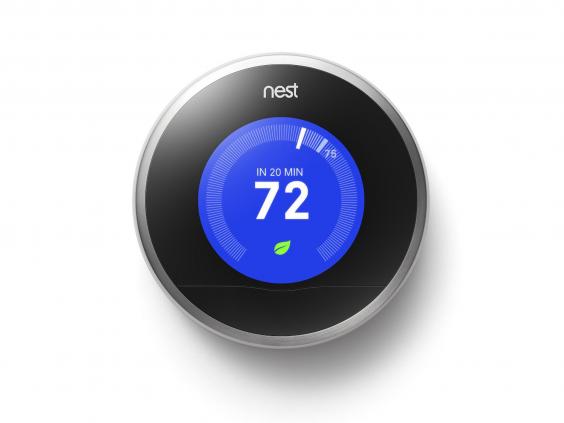 Nest's technology learns when you like your house to be warm or cold, and adjusts the heating accordingly. And if you don't like that, all options are accessible from an app.
4. Canary security system: £133.35, Amazon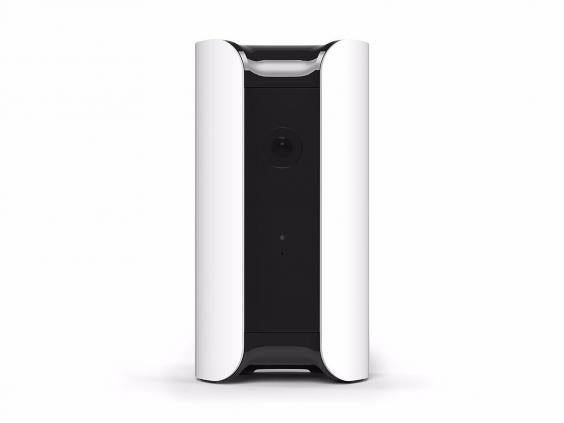 The Canary eschews the idea of connecting all of your smart devices together for an approach of making one security system that can do a lot. It's very easy to set up and then will monitor your house, watch for intruders and send you video of any irregular activity and also check in on the temperature and air quality using a set of built-in sensors.
5. Belkin WeMo switch: £29, Currys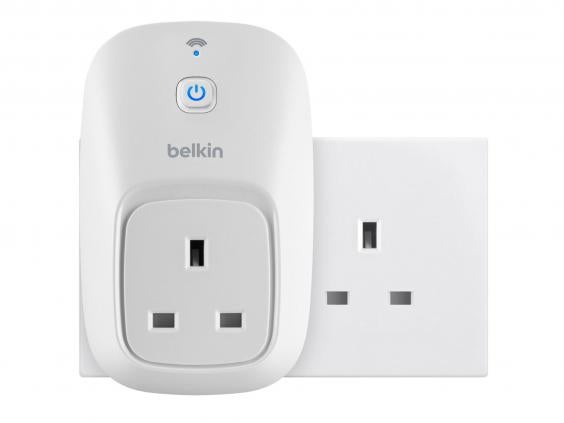 Smart electricity switches are simple — but they can be hooked up to anything to make them internet-enabled. Plugging a lamp will mean you can turn it on and off over the internet, for instance, and you can hook it up to other services like your thermostat or your phone's location so that they'll go off and on when you arrive and leave.
6. Netatmo weather station: £129.99, John Lewis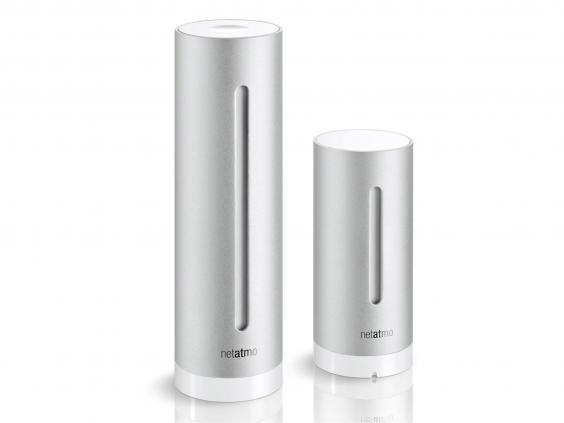 Netatmo's weather station gives you constant readings about what's going on around your house like how much wind and rain there is, so that you can get super-accurate weather readings, even from afar using an app.
7. iKettle: £77.90, Amazon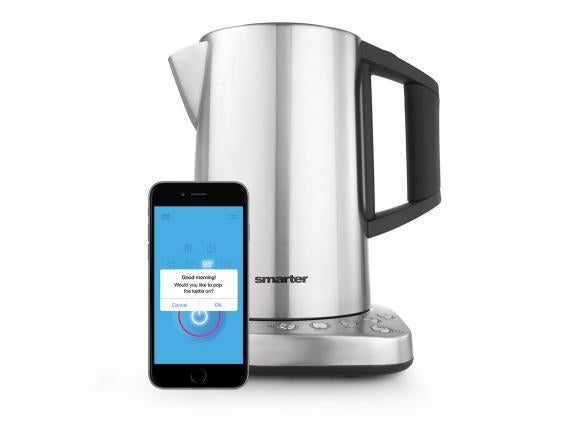 An internet-connected kettle perhaps isn't an essential but it will mean that you've got boiling water ready for your tea before you arrive in the kitchen. It can be turned on from the app, and scheduled to warm up ready for when you wake up.
8. Logi Circle: £159.99, PC World
Place this portable sphere in the room you want to capture – where your pet is in your absence, for example – and you can login live via the app. It'll save any moments where there's visual or audible activity, that you can rewind. And you can also talk through your phone, if you want to shoo your kitty off the furniture, say.  The focus here is on fun rather than security.
9. Yale Keyless Connected Smart Lock: £132, Yale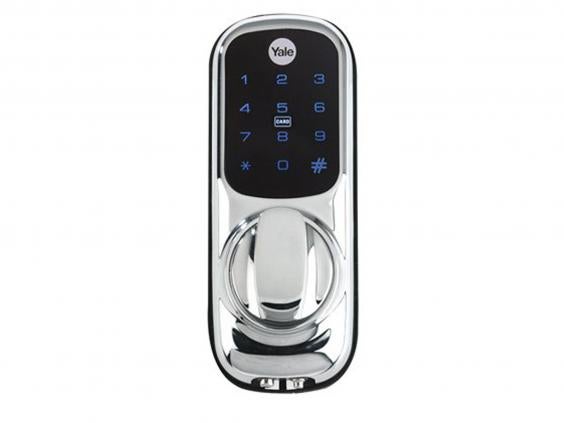 If you have a smart home system like those made by Samsung, this lock can be triggered from your phone to open your door. If not, you can set PIN codes for visiting family members, or set it to open with a card or a fob.
10. iRobot Roomba 620: £330, Amazon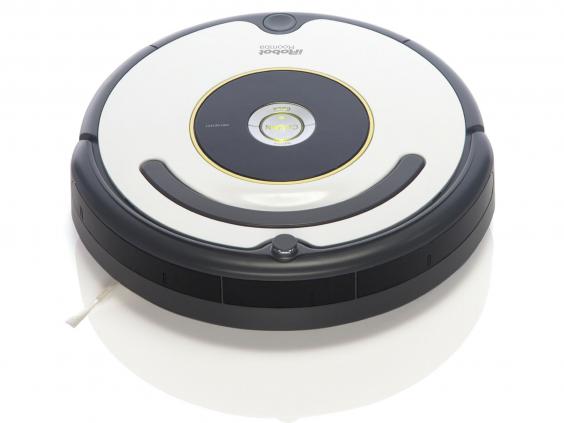 Prepare for the robot age by investing in a Roomba. It will drive itself around your home, hoovering up as it goes whatever the surface, and then drive itself back to charge before starting all over again.
Slow cookers can make cooking as cheap as chips (but much healthier) and if you're out at work or with kids all day, it's a great way to come into a home cooked meal with minimum effort. When buying one, make sure you check the cooking capacity and consider if you want a keep-warm setting or a timer, as well as extra features like a digital display, on-light or extra levels of heat.
1. VonShef 6.5L Electric Slow Cooker: £17, amazon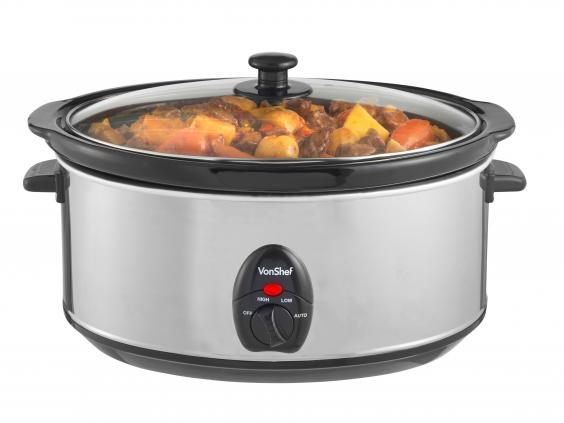 One for households into entertaining, this great-value machine serves eight to 10 people. The power light is nice and clear, the removable bowl is easy to wash, including in the dishwasher.
2. Crock-Pot Autostir Slow Cooker: £69, amazon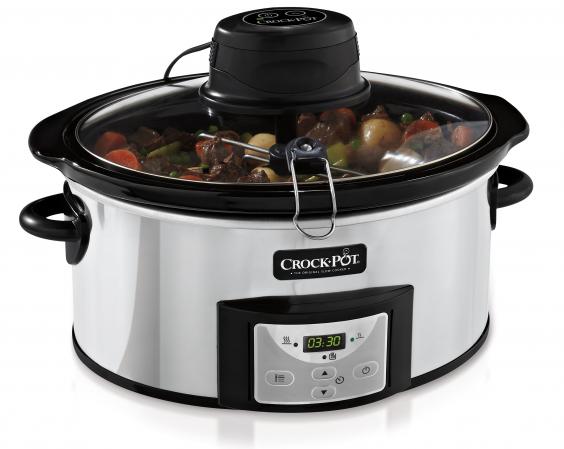 This family-sized machine from the US brand synonymous with slow-cooking has a nifty automatic stirring mechanism that means you don't have to lift the lid during cooking, keeping food even more tender and moist – great for sauces, curries and stews.
3. Bella Triple Slow Cooker and Warming Station: £50, argos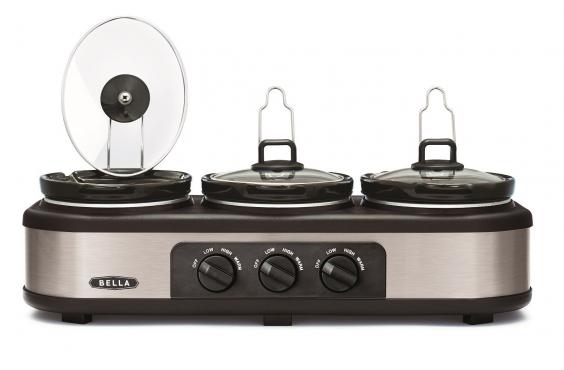 This has three cooking bowls that work simultaneously at different temperatures. We cooked great-tasting meat in one and veg in the others, then used the handy 'keep warm' function. It serves nine, but that's across the three bowls.
4. Breville VTP105: £25, amazon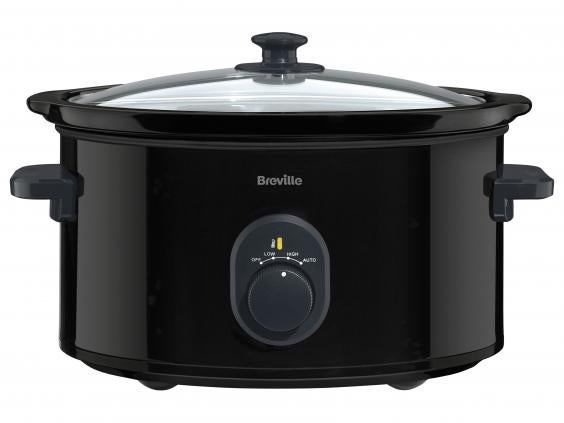 With capacity for three hungry adults (or four if two are kids), we found this cooked tender, flavoursome food, even when it was left simmering for the whole day on the auto-function.
5. Tefal 8-in-1 Multicook: £45, johnlewis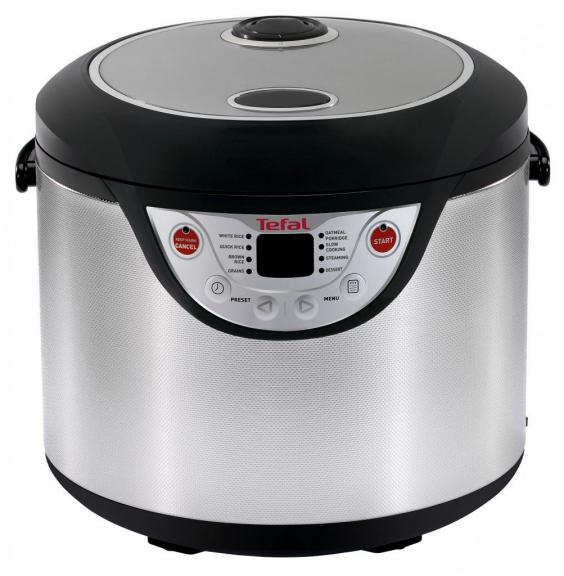 This is a bargain for a machine that has eight cooking functions including slow cooker, steamer and – our favourite – the rice cooker, which has fantastically fluffy results. A bit tricky to clean, but easy to use, making it a great option for people who aren't keen on cooking.
6. Morphy Richards Sear and Stew Compact: £50, amazon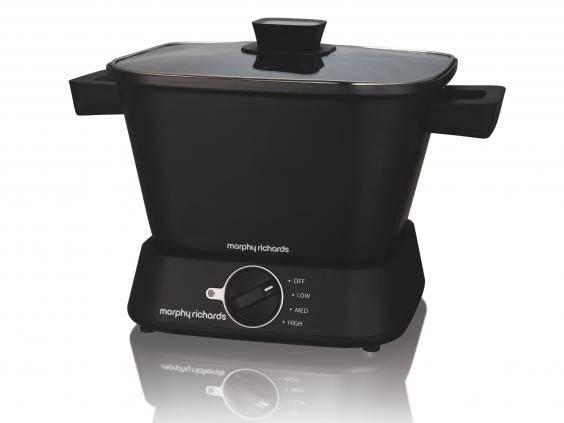 This stylish-looking machine roasts and stews exceptionally well, serving four to five. It's easy to clean (most of it is dishwasher safe), and is more compact than some to store.  We made the most of the recipe book and app. Shame there's no keep warm button, though.
7. Russell Hobbs 19790: £25, johnlewis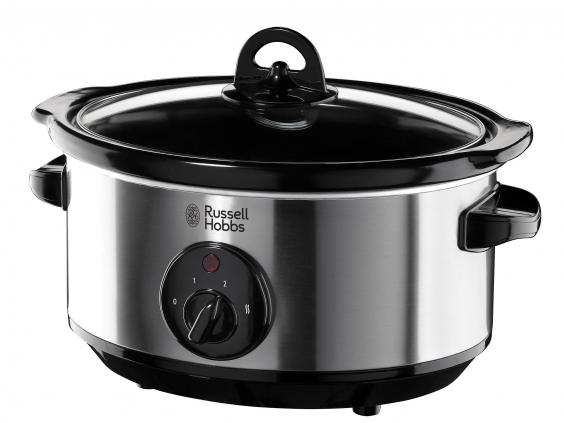 This is good for three to four people and it's particularly easy to lift out the pot and take it straight to the table. It's a cinch to clean and most importantly, it makes sumptuous food.
8. Family Crock-Pot: £59, lakeland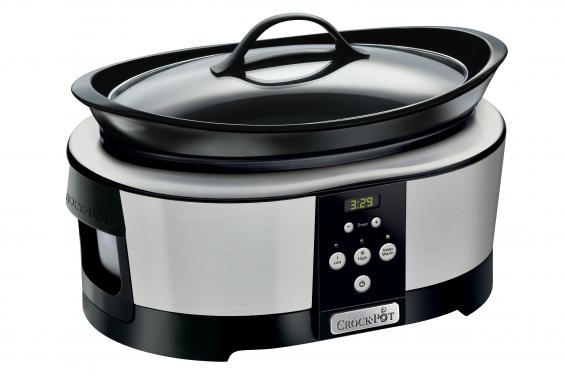 It can take a bit of time to heat this family-sized machine up, but it's worth the wait. The stoneware pot is easy to lift out and take straight to the table. It's also oven and microwave-proof.
9. Swan Stainless Steel Slow Cooker: £33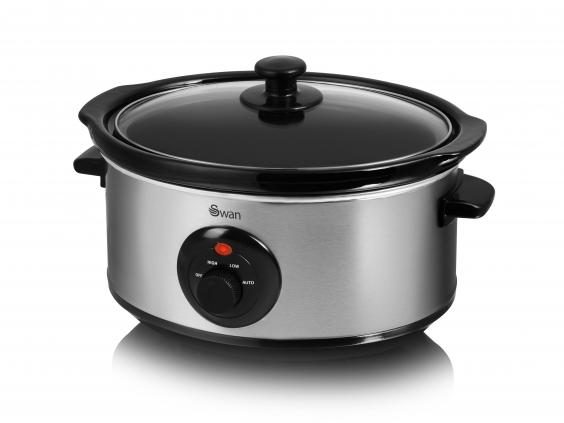 Ideal for three to four people, this has three settings and cooks everything from pulses to puddings. For meat dishes, we found the best results after browning the meat on the high setting before switching it down to cook slowly through during the day. Comes with a decent recipe book.
10. Lakeland 1.5L Slow Cooker: £20, amazon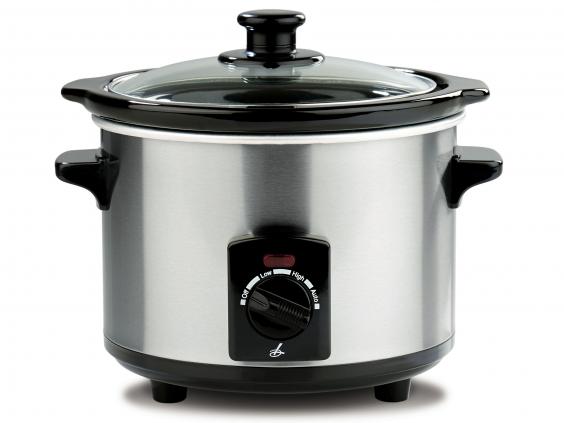 For one or two people, this idiot-proof gadget makes sumptuous stews on the low and high settings.  If you're catering for a large family, there are bigger ones available in the same range.